Benefits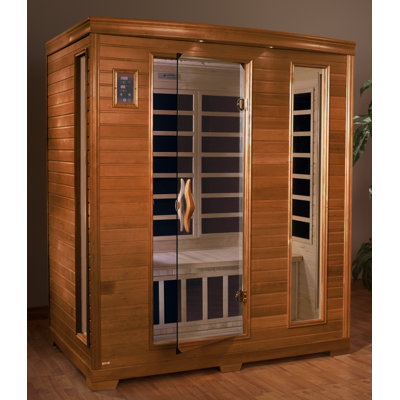 Detoxification
Relaxation/Stress Relief
Weight Loss
Improved Circulation
Skin Purification
Wound Healing
Pain Relief
Increased Circulation
Cardiovascular Conditioning
Lower Blood Pressure
Pricing
Members Only ….. $15
15 – 30 mins ….. $30
5 package (15-30 minutes) …. $125
10 package (15-30 minutes) …. $220
30 – 60 mins (experienced users only) …. $50
5 package (30-60 minutes) …. $200
10 package (30-60 minutes) …. $350
What happens to your Body?
The infrared light creates a heat that is transferred to the skin surface and absorbed. This heats the body directly, rather than just warming the external air. Infrared heat is easily absorbed, it penetrates the joints. muscles and tissues and raises the core temperature. This absorbed heat causes sweating and an increased heart rate – similar effects to what you might experience if you have done some moderate exercise. A beginner's session is around a 10-minute duration, working up to a 30-minute session. A general session is about 30-minutes and can be done daily.
Process
Please book an appointment for your session as walks-in may not be able to be accommodated. Your first time using an Infrared Sauna will be 10-minutes in duration. It is recommended that you do your Whole Body Cryotherapy Treatment FIRST then step into the Infrared Sauna for maximum benefits. You will have your under garments on (or off) and our robe. You will be guided to our Infrared Sauna Room and the technician will direct you in, explain the process, and start the machine. There is a stereo system inside, so please feel free to bring in your phone and hook it up. Then you just ENOY the experience! Door is never locked and you are allowed to leave/get out at any time.